Dear Internets,
Every now and then you stumble across a cute project, usually conducted by a small fry with some big ideas. This morning, watching TV, a big fry has decided to give it a shot. Bonds has been in the lives of Australians since 1915 and ever since I was little, I can remember the chesty bonds ads with that buff guy - if you're Australian you'd know the one. They've now decided to find one person to be the face of each of the 35,301 days Bonds have been in our lives.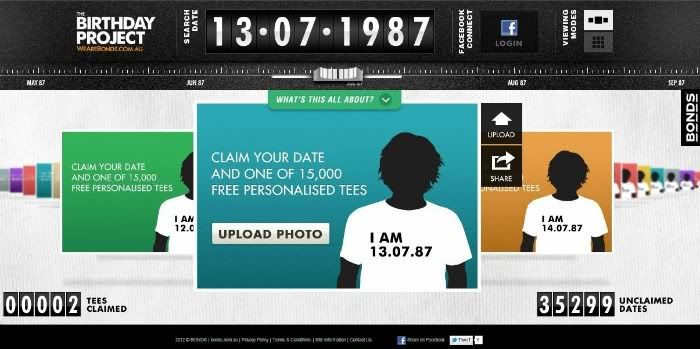 If you're Australian, all you have to do is get onto
http://www.wearebonds.com.au/
and find your date of birth. If it hasn't been claimed, upload your photos, share some perals of wisdom, what you're known for, what you look forward to and get a free white bonds shirt with your date of birth and name on it. I guess the challenge is going to be finding older men and women to admit their age:) I can't wait to get my tee.
Oops:
What is BONDS? Bonds are traditionally a brand that make underthings, made famous for their singlets and undershirts. More recently they have branched out into hoodies, sloppy joes, PJs, trackies, bras, socks and underwear, making a big splash with their fun and memorable adverts.
'♥ pixelhazard
hoping she gets a Tee